LEAP-Agri (EU-AFRICA)
Collaborative research between Europe and Africa for Sustainable Agriculture and Aquaculture for Nutrition and Food Security in Africa

Call for proposals 2017

LEAP-agri is an initiative aiming to implement the political dialogue between Europe and Africa for the science and innovation cooperation. The first priority of the cooperation is food and nutrition security and sustainable agriculture  (FNSSA). LEAP-AGRI is part of H2020 : Ch 2/ SFS 41 2016-2017, topic "EU-Africa Research and Innovation partnership on food and nutrition security and sustainable agriculture".
Building on the experiences  from ERA-ARD, ERAFRICA and PRO-IntensAfrica, LEAP-AGRI is guided by strong cooperation principles between partners such as equity and  co-ownership and a long term engagement among partners building on a trust relation for many years.
The LEAP-agri partnership enhances the investment in research and innovation via a coordinated mechanism allowing limitation of fragmentation. LEAP Agri includes the preparation and the implementation of a joint call for research and innovation projects among European and African partners. 19 countries have pooled their resources and with a topping up of the EC the budget of the call comes to 27 MEURO.
The call covers 3 thematic research & innovation themes:
- sustainable intensification
- agriculture and food systems for nutrition
- expansion and improvement of agricultural markets and trade
For the detailed description of the themes, please have a look at p.10 in the Call document.
The call is organised in two steps.
Proposals for the 1st phase have to be submitted before 15 th June 14:00 CET, via the system
The Belgian participation at the LEAP AGRI call 2017 is funded by the following institutions : BELSPO, F.R.S-FNRS and FWO, each having their own eligibility criteria. The 3 funding institutions participate in the 3 thematic call lines.
The applicants have to identify their funding source before submission of their proposal.
FWO can fund the dutch speaking universities (Vl. U).
FNRS-FRS can fund the french speaking (UF).
BELSPO can fund all scientific teams of non ‐ profit institutions  (NP) including the federal scientific institutes FSI.
The following scheme resumes the funding possibilities for belgian applicants (themes, beneficiaries, funding sources).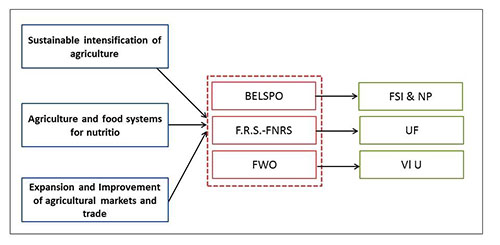 The institutions that are not mentionned in the scheme (e.g. SME's) and that are willing to participate in the call have to bring their own budget and link up with eligibles partners.
Contact persons:
In case you have remarks or complaints with regard to the call: website.
WEBINAR for applicants
On behalf of the LEAP-Agri Call Secretariat (DLR-PT, Germany, NRF, South Africa and NWO, The Netherlands) we would like to invite you to a webinar for potential applicants to provide more information on the call, requirements and application procedure. In order to participate, please follow this link (LEAP-Agri webinar) on Thursday March 23 from 13.00-15.00 hrs CET. If you have any questions please contact LEAP-AGRI@nwo.nl.